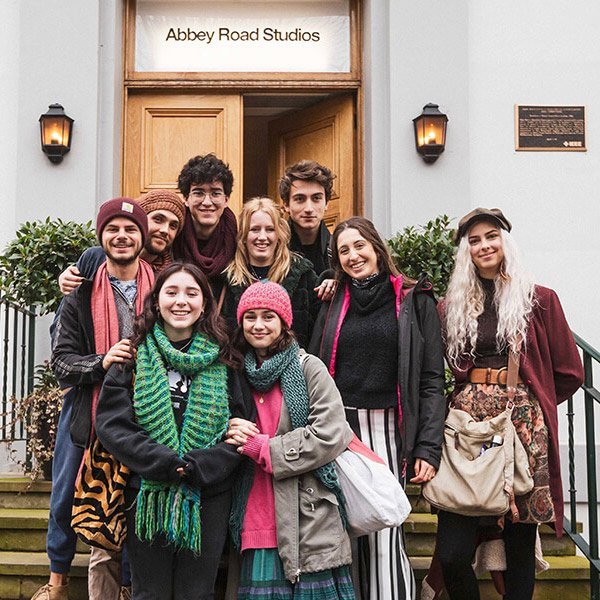 Brockwood Studio — and a trip to Abbey Road
The well-resourced Brockwood Studio is regularly buzzing with students, either those who are studying in classes there or those who want to make and record their own songs in collaboration with others in a serious, creative atmosphere. Here, one of our staff members reflects on a recent visit to the Abbey Road Studios, where students were invited to sing in a choir and immerse themselves in the music industry for a day.
Music has always been a fundamental part of day-to-day life at Brockwood. Whether it's the gentle keys of the piano drifting across the sitting room, the faint plucking of a guitar as you walk down the hallway, or the sound of singing as you head to the Art Barn, music seems to naturally surround you here.
In a little red shed in a corner of our vegetable garden, you will find Brockwood Studio — the place where many of these tunes are produced as songs. These songs may start as a simple melody hummed by the fire in the Sitting Room. They are then brought to the Studio to develop and record. Since I first came to Brockwood in 2013, I have been recording groups of students, mature students and staff, collaborating on songs and witnessing the mysterious process that happens when a tune, a feeling, is brought to life.
This year, we are running a Sound Engineering class and a Music Production class in the Studio every week. At most other times, the Studio is almost always packed with students wanting to make music alongside their busy timetables. By Spring this year, we are aiming to have launched our new Brockwood Studio online page or channel, where Brockwood alumni can hear all the music being created here, by students, mature students and staff.
The past two years in the Studio have been busy and important ones for the future of making music at Brockwood. For a start, the Studio has been beautifully renovated; when you step in, it feels like a serious place. The Control Room has been enlarged, new equipment has also been purchased and generously donated: from brand new studio monitors to Logic Pro plug-ins and software. Our Brockwood Studio is certainly now capable of producing hit records. However, our interest is not in supporting the desire for fame and success which is so instilled in the human mind and which pervades the music industry, but rather in the natural process of creating and writing music together — allowing it to reveal things about ourselves in thought and feeling which we may not previously have seen.
Last term, a small group of lucky students and staff were invited to the Abbey Road Studios, to sing in a choir for the new single of a former Brockwood student. The song was recorded in the famous Studio 2, where many great talents have recorded and continue to record. (The Beatles are said to have recorded almost two hundred of their songs there.) It was interesting to look around the place – the students saw the Live Room, the Control Room and the old Reverb Chamber – but it was also very educational. Not only did the students experience how the studio creates sound and records it, but they got to observe some of the more mundane realities of the music industry: the endless hours spent hanging around, some people smoking cigarette after cigarette and sipping coffee all day, the frowns on some faces, artists in discussions with their managers; perhaps too, at times, one could sense a subtle undercurrent — the demand for more, to be famous.
Our visit to Abbey Road Studios was a privileged opportunity for Brockwood students to perform and record in an iconic music venue, but it was more than that: there was much to learn about the realities behind glamourous facades, the urges and motivations of our daily lives, and about how we'd like to make music together.