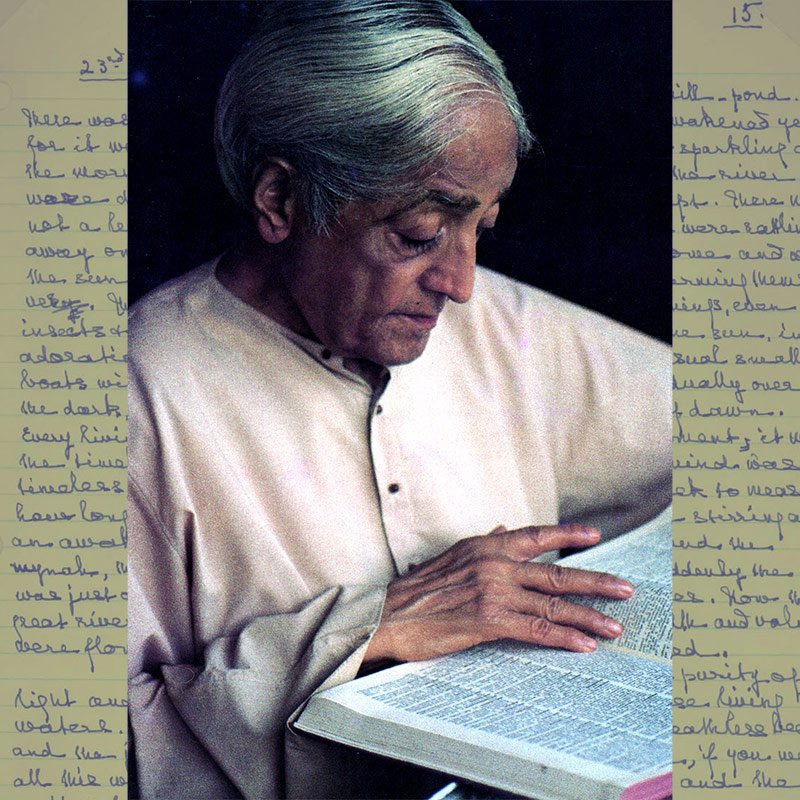 From the Archives, Vol. 3
Written by THE FOUNDATION STAFF
I BEGAN WITH BOURDELLE yesterday, four hours every day. He wants a month but that's impossible. I give him two hours in the morning and two in the evening, so my whole day is gone. What Bourdelle does is going to be first class, as he is really a master in his own profession. He is like Rodin, but better I think.
Krishnamurti, September 1927
Krishnamurti met the renowned sculptor Antoine Bourdelle in early 1927, through a mutual friend, Madame De Manziarly. When Krishnamurti visited his Académie in Montparnasse, Bourdelle was immediately captivated by him, saying 'When one hears Krishnamurti speak, one is astonished. So much wisdom and so young a man. Krishnamurti is a great sage.' Bourdelle thought had he met Krishnamurti earlier, he would have followed him and would have been an even better sculptor.
It seems that Krishnamurti was also impressed, and a correspondence began – in French. Sometimes Krishnamurti made reference to Bourdelle over the years when talking about creativity. As late as 1976, he said during a school dialogue, 'You know Bourdelle, the sculptor? He was a French sculptor, and I happened to be in one of his classes – when there were no nude ladies because he wouldn't let me come in when there was that! He was telling his students, if I remember rightly, that it is not technique that matters. It's not how to measure the nose, you know, the proportions – none of that matters. What matters is to find that fine line of creation.'
Bourdelle requested Krishnamurti sit for a statue to be made. He sat for eight days in 1927 and returned in 1928. But this was not as long as Bourdelle wished, and so the planned statue resulted in a bust. Ten copper casts were made and in 1990, one was kindly donated to Krishnamurti Foundation Trust. Another is at The Krishnamurti Foundation of America, with two other known examples in San Francisco and Montauban in southern France.
Bourdelle's sculptures are displayed around the world, with famous examples at the Eifel Tower, in Washington D.C., Osaka, Buenos Aires and in Athens. The original Krishnamurti bust is at the Musée Bourdelle in Paris and it is considered to be one of his finest works.
IMAGINE QUITE A young man not yet 30, radiant in face and gentle of movement, in other words, a man to whom all the allurements of life might legitimately appeal and who says to you, 'I come to bring back to the world the message of peace and love.' This young man leaves his country and betakes himself to Western countries. Many are against him, and many are the smiles. But laughter and enthusiasm mean little to this man of wondrous calm; he has within himself centuries of wisdom. Indifferent to riches, to the excessive tokens of admiration, he pursues but one end, that of impressing upon the world its misery, and the way out. They talk of a messiah; the sceptics scoff, the brilliant minds harangue, but he goes on, in no way posing as a god, confident in his mission. That is Krishnamurti. And now we see a man who wrestles with one of the densest forms of matter – stone – he cuts it, hammers it, changes it, wresting away its inertia. His two hands, which are not large, suffice to breathe life and spirit into this matter which he masters. A man of short stature, broad shoulders, an astonishing face framed in a beard which is nearly white, of apostolic aspect, he has brought and still brings to the world a message – that of art. As an artist, and a great artist, he has great dreams and great anxieties. That is Bourdelle. Bourdelle and Krishnamurti have come together. The master was asked to make a bust of the young sage. He has done so and has been conquered. One can easily imagine the conversations exchanged during sittings. The keen study of the artist seeking to fix in stone the actual mystery and depth of the bronze-coloured and immobile face.
International Star Bulletin, April 1928
Almost a century later, Nigel Boonham, former president of The Society of Portrait Sculptors, created a companion piece to Bourdelle's: an older Krishnamurti to balance the youth of 1928.
WHEN YOU BEGIN to question what is creativity, is it something totally different? I think we all can have it, not only the specialists, the professionals, the talented or the gifted – I think we can all have this extraordinary mind that is really free from all the burdens man has imposed upon himself, created for himself. And then out of that sane, rational, healthy life, something totally different comes.